Celebrations – Mentoring & Accolades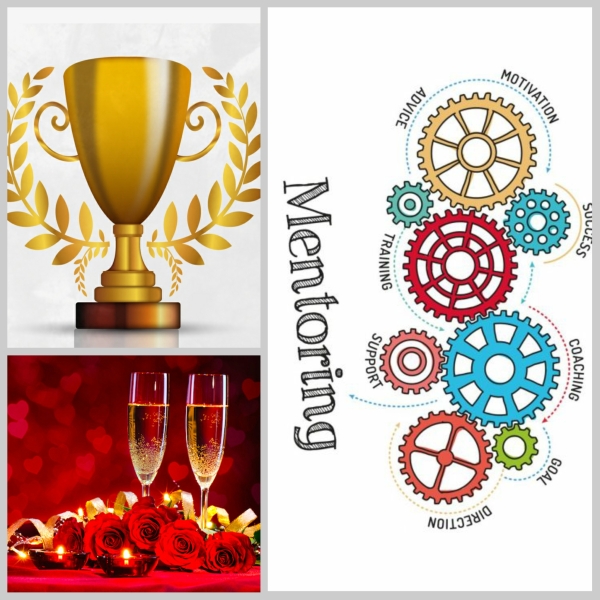 August has been quite an eventful and emotionally interesting month…
It started with celebrating Gabby's birthday, my gorgeous niece (she is growing up UBER fast). She is starting her first year in college … WHATTT??!!
Then it was our wedding anniversary – my hubby and I celebrated 34 years together. We went for brunch at the LOVELY Manoir Hovey  OUFFF, when I verbalize it, it hits me that it is almost ¾ of our life!! And BTW LOVING every minute of it
Then that same week the summer session at College Lasalle was over!!! Another batch of Event Planners on the loose into our industry!! (sometimes I feel like a mother hen letting go of her brood)
Even though this is the case. I was ask to mentor a few of these grad students to help them get their start in this BIG BIG crazy world… (it TRULY gives me PLEASURE)
Speaking of Mentoring; I found out that I've been inducted in the 2020 Canadian Meeting and Events Expos (CME Expo) Hall of Fame as MENTOR of the YEAR  . I was absolutely blown away! What an honour! You need to understand that out of alllllll the nominations across Canada… I was chosen!!!! WOWZERS and HUMBLED!!! The ceremony has been postponed this year's (due to COVID) however, the event will happen next year. (GOD willing)
If you are wondering, NO I am not working on actual client events at the moment 
 due to you know what!!! However, I am keeping up with the industry via zoom calls and some educational webinars which includes tons of networking. I even was asked to be one of 3 panellists, for Women in Tourism Mexico (WIMEX) to discus the current COVID situation effecting our industry within our country compared to others… (another honor) Side note it was my 1st real virtual conference and believe it or not I LOVED it!! But nothing beats face to face….
A lot of my work travel has been on hold, due to this pandemic. However, I/we did get away for a few days to explore the Gaspe region. It is one of the HOT SPOTS right now to vacay at since we cannot go anywhere else right now. And because of this, it was almost impossible to find a hotel. When I finally did it was for two nights only. So, we drove 10hrs, arrived the evening, check in, explored a little after supper. Went to bed got up the next day did tons of walking, sightseeing, and beach bumming, had another wonderful supper went to bed and then spent another 10hrs driving home! YES, it was tiring but sooooo worth it. I was STILL regaling at the realization that we could walk to the La Roche Percé  – I was shocked and sooo excited that I was there up-close and touching it!!!
Then once back, a few day's later we did a quick trip to the city of Kingston (Ontario)!! It was a great gem of a discovery we only stayed overnight and LOVED it!!! What a delightful place near the water!!
Truth be told, I do not know why it's taken this long, however, NOW I can confirm that I'm beginning to feel a little stir crazy! I am keeping as busy as possible 'setting' a daily routine so, I do not feel it, but alas, I am human – although I am taking advantage of doing nothing and realigning myself and path.
I CONFESS I want my planner life back!!  
So, for now I have still been doing a ton of cooking. And hubby and I are also revamping/finishing some overdue projects in and around the house.
That is my month in a nutshell.
Hope the rest of your month ends on a great, healthy note!