Yes, it has been a Zoom-y kind of month. I have had so many Zoom meetings it is unbelievable!
From: client meetings, supplier meetings, brainstorming sessions, industry gatherings, student mentoring and YES even 5@7's with friends' family and colleagues.
Truth be told, we where to be galivanting in Portugal right now on vacay, obviously, it is better to be safe than sorry and be home.
As I mentioned in last month's blog, I rediscovered my other passion, which is cooking and now I discovered I am not that bad in baking either!!! (who knew!?!). You see, Easter happened (without the usual family gathering) frustrated, I felt the needed to venture into making/creating the traditional Easter meals we usually have and quite frankly, it was a success!!! I guess I am now ready for next year's gathering with all the traditional trimmings … You know, it has been really nice to have time in my kitchen again.  Ahhhh blisss….
I also mentioned last month that, my 2nd hustle, Lasalle College did a smooth transition on to online classes (in mid March), and I am glad to report all is still good… We where even able to wrap up the winter session with virtual final exams, in mid April. Due to this transition we needed to support our students with a little more care and I am happy to report hey where happy… they sent me thank you notes – how touching!!
So, I now have a small break between the school's sessions – hence why we where leaving to glorious Portugal on vacay … but alas it was not to be and I digress …
Going back to the title of this month's blog  "Zoom-y Kind of Month" … believe it or not I've been quite busy 'working' without leaving the house… nice to still be part of things, even though we have to keep our distances, these meetings are the new normal, for now anyways. (I do MISS my humans…)
Yes folks, I am not (and cannot) go anywhere. However, believe it or not, I am just as busy as when I was getting around in the car! You see, between School, Work, Industry Interviews, Family, Friends, Clients, Accountant, the Dog, Netflix and Grocery shopping for the parents and in-laws. April has kept me as busy as a bee thus far. (even though there was no physical human contact…)
Wonder what May will have in store? One thing I WANT, mother nature, to send us some WARMTH ASAP – PLEASE!!!  Even though the signs of Spring are evident; we have rabbits invading our backyard …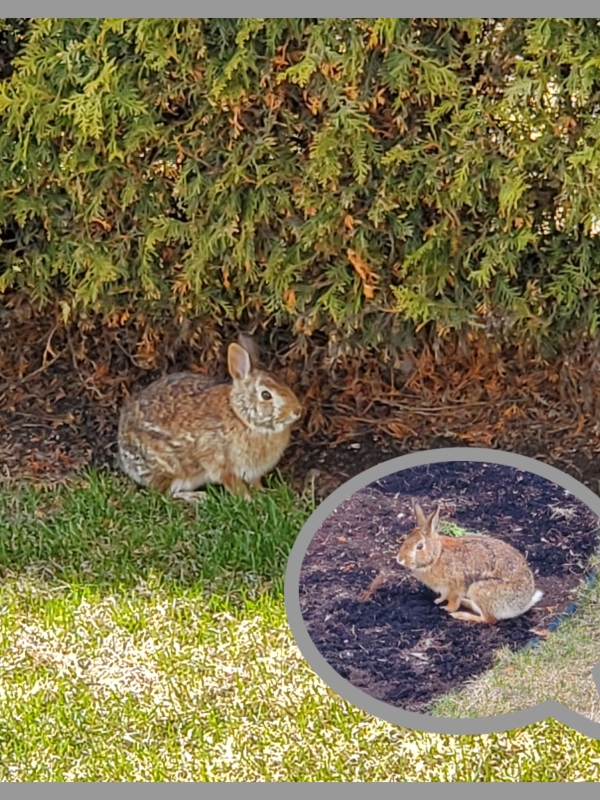 In wrapping this up – we must hope that it can only get better!! (fingers-crossed)
Please – Please – Please, everyone, STAY HOME as much as possible WE will be SAVING LIVES – be well.