Spring has sprung, and while we haven't had the warmest temps, the 'rain' has been plentiful. Pun totally intended. Hence why I'm quoting this month's blog "Murphy's Law"… what has to go wrong has gone wrong… (with a sliver lining)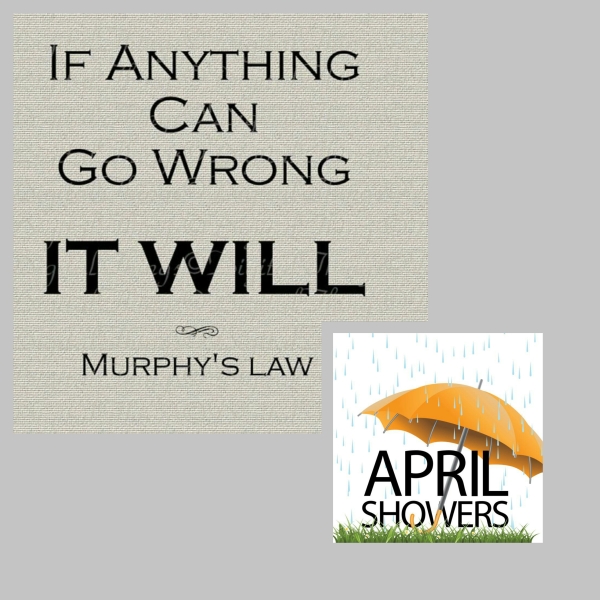 Allow me to explain:
Here is the good part; on the business side Montreal Event Planner 's first quarter has been quite fruitful. All due to the rolling out of clients' Incentive programs (6) and to boot I locally executed (3 events) Annual Health Fairs.
As usual, I'm constantly in search for and needing to be up-to-date with, new &/or renovated sites, so off we went to The Montreal Casino  (did you know that they recently went through some renovations? It's gorgeous now, and they even have spaces now for meetings, etc.), definitely a space to be reconsidered/reintroduced to my clientele.  Also, scoped out the newest rental trends at Gervais Rentals and Celebrations Group.
On the school front; Lasalle College's winter session is all wrapped up. The summer session begins in Mid-May.
Then, later in the month I headed to Ottawa for the weekend to certify future wedding planners WPIC  (what an awesome group this was).  Watch out Ottawa Wedding Industry, fierce new certified wedding planners are on the loose.
Here is the bad part; keep in mind what I am about to explain all happened in a span of three days consecutively…  Started off a Thursday morning with taking the theory exam for my driver's permit (yes I lost it due to points – yes I hired a lawyer went to court, won, got an extension with the premise that I needed to take a written exam regardless.) Well I took the exam and did not pass … Sooooo, yes my reality at the moment, is I'm without a license for the next 28 days. (as if that wasn't bad enough) Later on that morning went back to the office to get some work done despite my disappointing experience.  As I'm running my business, I suddenly realized my computer was being hacked into; I immediately called my IT people to handle the matter (thank god). Once all this was managed I went to do some online banking and BOOM … I realized that 1800$ was transferred from my account without my authorization.. Realizing I was frauded, I called the Bank and dealt with that… GRRRRR … so that was a day of hell. Then if that was not enough trauma. A few days later we are leaving for our planned vacation to Florida, when, as we were sitting on the plane, I realized I forgot the keys to my parent's condo. So before the plane went airborne, I called in a panic, the property manager, explained the situation, asked if they could leave us the spare key to get in, with the intent to make a copy and return it, of course. Well did I get a rude surprise reply. BOOM … they explained to me that with the new condo regulations recently put into place. We are not allowed to have it nor where we allowed being there with out the owners!! DOUBLE BOOM.. WHAT?!?!  Picture this, I'm in the plane about to take off and now realizing I would have no where to stay??!!?? What dictatorship!!! I mean it's a private residence (my parent's) and they are dictating who can be invited or not!?!?! WHAT?!?!? OUFFFAAA let me tell you, those three and a half hours in the air UBER stressed me out … I did not need this considering my health situation!!! Any how long story short ended up call a locksmith to open the door.. all is well that ends well.  OUFFFFFAAAAA the first few days we felt like fugitives … then we calmed down. But let me tell you my stress went off the charts … it took the first 4 days of my vacation to calm down and to completely unwind… so much for the much needed R&R.
Let me wrap it up by wishing you all a great start to spring, and I will hopefully have new positive adventures to share with you next month.
Ta ta for now!