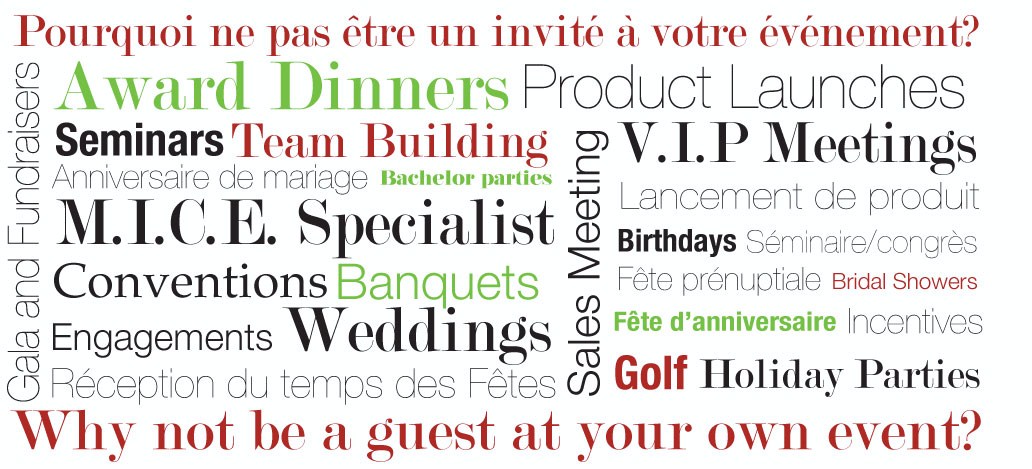 OK, so we're off to a bit of a rocky start to spring (boy, did the temperature bounce around a lot this month!), but things in my busy event-planning life have been fantastic! It was a great month. Can't believe June is right around the corner.
I've been working on a few really big upcoming projects, and a lot of last-minute stuff. I went to Toronto for a few days at the beginning of May – one to reconnect with colleagues of the destination weddings industry and another to attend an educational conference. It was basically to see what's up and coming in World Romance Travel. This is an invitation-only event, and learned TONS so stay tuned….
On the teaching front, last semester was pretty quiet. However, this summer session at College LaSalle has started full force!! I'm teaching two classes on-site and three online. Speaking of Lasalle, I have to mention that I went to the annual Signature Fashion Show that LaSalle Fashion Design students hold every year. As per usual it did not disappoint! It was FANTABULOUS! It absolutely amazes me how talented these students are… WOWZERS!! It's like the MET Gala… it's just amazing (KUDOS to the Fashion Marketing/Design teachers).
With my dream team, we executed a couple of corporate events for the same client two days in a row:
Held at the W Hotel Montreal. It was a morning educational breakfast meeting for my client's clients… LOVE LOVE the staff at the W. They just ROCKED it (as usual)!!
 The other was at the Commerce Restaurant (sexy spot) – it was 5@7-style client appreciation evening with tons of tapas and drinks. Everything was spot on and SUBLIMLY DELISH (if haven't tried this spot yet, it's another must-try)!
You're probably saying, "What, no travel this month Daniela?!"
Well, let me tell you: YES there was; a surprise getaway to SPAIN happened and MIO DIOS MIO DIOS que MERAVIGLIA!!! Started rough – the original flight left YUL and arrived in Brussels so we could take the connection to Sevilla, Spain, where our journey was to begin. Well, the plane was delayed for five hours due to engine issues, which meant our connection in Brussels was a complete write-off. Once we finally got to the plane and landed in Brussels we were given a "new" connection route to Madrid and then Madrid to Sevilla. Believe me: Between the jetlag exhaustion and tight connections between this new routed flight, it's a miracle we where able to get on those flights… OUFF talk about STRESSED OUT… Exactly 24 hours later we get to Sevilla EXHAUSTED but safe and sound. So due to all the delays I HAD to stay up a few more hours because I was scheduled to give an online class for ilasalle (YES YES I know it's uber crazy – but it had to be done). Anyhow, needless to say, I went straight to bed and woke up refreshed (still a little jetlagged) to discover SEVILLA, Espagna . As they say in Sevilla, estas muy muy bonita. We only stayed there for approximately 24 hours. I will let the photos speak for themselves and add, what a quaint walkable city and super clean, not to mention the locals are accommodatingly friendly and the food is SUBLIME (hear that, all you foodies out there?!).
Shortly after our quick stint in Sevilla we packed up and took the Fenfe AVE speed train to Madrid. We thoroughly LOVED the train experience going at an average of 270km you didn't even feel the speed that is how smooth of a train ride it was (like WOW)!!
Approximately 2½ hours later we arrived in the GORGEOUS COMMANDING city of MADRID !! Another WOW, we only stayed a few days and had the time of our lives. We soon discovered how easy it was to get around Madrid. We walked, took the metro and also did the hop on hop off tourist bus.
Side note: Their subway system is SO SO IMPRESSIVE OMG – it goes four levels below ground level and it's quite simple to use. OMG WOW OMG… Once we got familiar with the city (via the hop on hop off bus), we walked all over in the nooks and crannies, whether it was the large piazzas or in the new and/or old sections. So many people and so much to choose from regardless of your needs or wants: souvenirs, museums, castles, churches, and, of course, the assortments of their infamous tapas. As hard as it was, the time came to say goodbye to Madrid and head to our third and last destination (yes by speed train again) to BARCELONA .
WE just fell in love with this master piece of a city … this city OOZES art from EVERYWHERE. What do I mean by this? Well from the moment you step out to explore Barcelona, your five senses start see it, feel it, hear it, taste it… regardless weather you are looking for it or not … it HITS you. We did the typical touristy stuff; saw all things GAUDI, the infamous historical neighbourhoods and gothic churches, walked along the port, in a short period we discovered all what Barcelona had to offer. We also managed to steal a few moments on the beach.
Definitely NEED to go back and explore deeper… (it's back on my never ending bucket list)
Switching gears (reminding you that I do actually work for a living) My team and I have been working overtime and getting ready for several major outdoor special events for next month, including the annual F1 (Formula1) private parties I do for my VIP clientele that come to Montreal every year for this specifically. However, I will share those details next month….
It's shaping up to be a great summer. See you in June!