Hope you had a great month with lots of tricks and treats? Allow me share with you some of my treats…
This month managed to I squeeze in some travel. I went to THE TRENDIEST and HOTTEST place to go right now: Reykjavik, Iceland . What an adventure it was. I will however emphasize, to go there you NEED to be the type of traveller that WANTS to embrace experiences. What I mean by this is you MUST MUST MUST be the outdoorsy / sporty / roughing it type, especially if you to pick a destination like this one. I say this simply because it's not your typical vacation spot. I have adventurer type of clients and well for them it is a PERFECT destination. BEST way I can describe it is one truly feels like you landed on MARS, what a FANTASTICAL place. Another way I can describe Iceland to you is that fundamentally you are on an island that is purely 1000% volcanic. Other descriptive words that come to mind is SPECTACULAR – REMOTE – NATURAL – PURENESS – AUTHENTIC – LOVE of the OUTDOORS…. (you're getting my drift correct?)
If interested and wanting to get more details on my trip and what to do there please read/follow the upcoming travel articles my online weekly Travel Trend Blog for the Suburban News.
Here is the link: http://www.thesuburban.com/blogs/travel_trends/
In other traveling news this month, I went for a quick trip to Las Vegas, Nevada . This is an annual congress for Incentive travel experts (like me). I religiously try to attend this show basically to be educated and to keep up to speed on the newest incentive travel trends in our industry … (my clientele depends on me for this). As they say, education is key and the power of knowledge is priceless.
Speaking of the business; although I've attained my sales goal this year (in August) yes it was a "KICK ASS" year for Montreal Event Planner, contracts and inquires are continuously coming in for the upcoming 2017 and 2018th;  Annual Sales Meetings – AGMs – Congresses – Workshops – Product Launches … just to name a few. Needless to say it's shaping up to be pretty awesome.
Locally, I attended this ACCRO FUTURISTIC industry conference all based on the future of technology in our meetings and events. It was held at TOHU, and it was pretty cool, can't wait to implement/introduce this to my clients' upcoming meetings.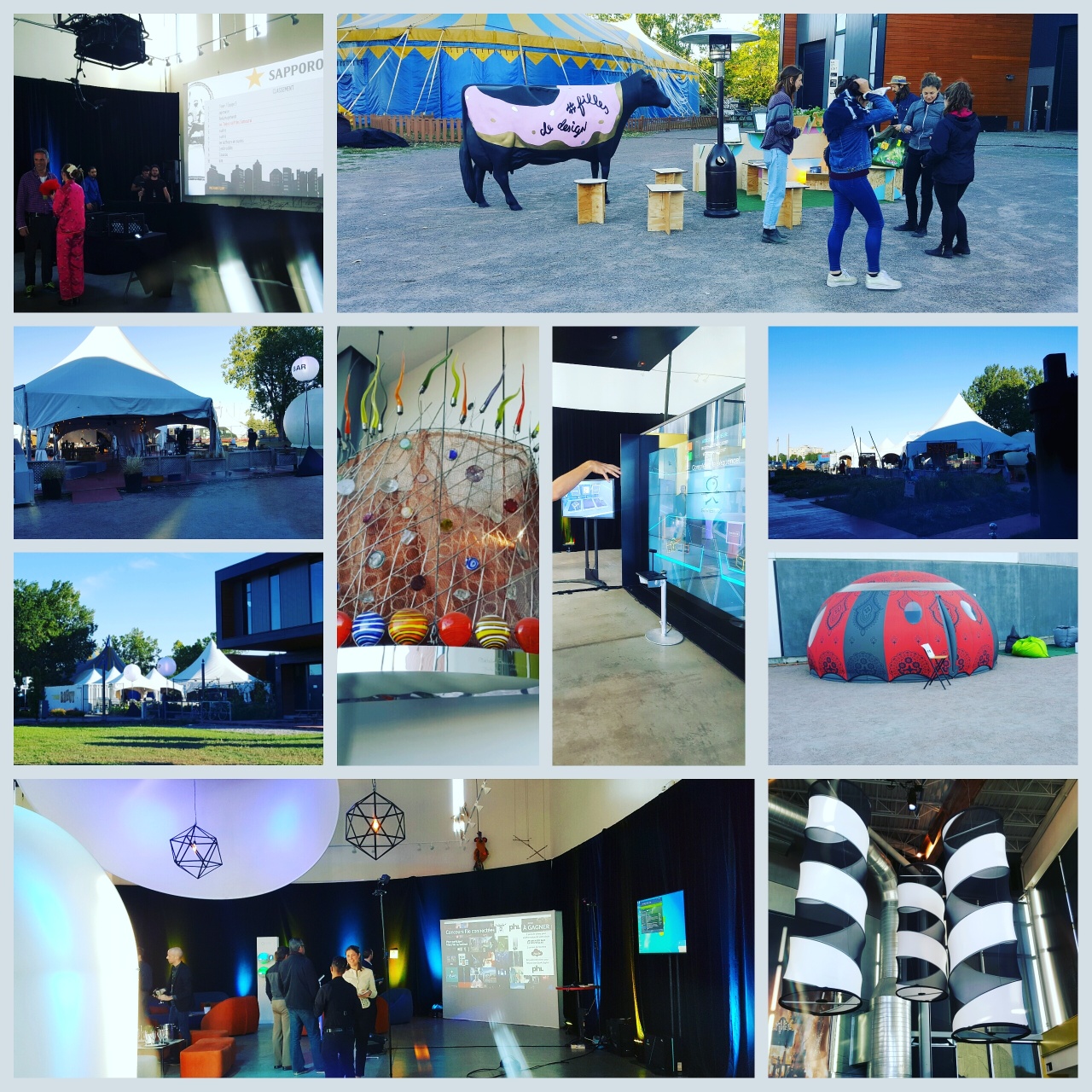 Speaking of future and education, this month I kicked off the season with the annual WPIC Wedding Certification courses here in Montreal.  As per usual I proudly educated and certified a new batch future wedding planners! LOVE doing this and enjoy passing my knowledge forward.
More Education: as per every session with the classes I give at College Lasalle  I had a fantastic industry speaker Mr. Dan Vigderhous from Event-ure come and share his fantastical industry knowledge with my students. Later this month it was my turn, I had the honor to be invited by  Champlain College's Tourism Program Department , not only to speak and share my knowledge but also to partake at a "Shark Tank" kind of forum from the tourism class. Their presentations were AWESOME. Side Note: the future of this industry is looking bright!!
To concluded and on a personal note, many of you have been kind enough to ask about my Breast Cancer prognosis and status. I was advised that I'll be starting my radiation treatments in November. It will be 20 treatments – 5 days per week for 4 weeks… OUFF… and yes I'll keep you all 'abreast' of this journey… (pun was totally indented).  Thank you again for all the continued support!